How would it feel to get paid to do what you love this year?
We're seldom encouraged to develop our interests, leverage our strengths, and build a life and business around our passions.
We grow up thinking we're supposed to graduate from a good school, get a good job, and continue climbing the corporate ladder until our retirement account can support us. Then, and only then—after we retire—do we start pursuing our interests, giving back, and building a life around our passions.
But what if we could start building a life (and a business) around our passions today?
You may be reading this from a desk at a job you don't care about. In fact, you may have skipped over watching the video above because you don't want your boss or co-workers peeking over your shoulder, all in your business. (I know—I've been there.)
Perhaps you did all the "right" things—graduated, got a high-paying position, and actually put your college major to use!
…But are you happy? Do you wake up each morning, excited to conquer your day? Do you look at the world as full of possibilities, or has it become a view clouded by obligations and obstacles?
I know one thing: I have a much greater purpose on this earth. And you do, too.
It's just a question of whether we have the insight and initiative to break away from all those things we were "supposed" to do.
I've been working with individuals and helping them
breathe life into the dreams they tucked away and forgot

…helping them hone their skills and interests and lay the groundwork for building businesses around their passions.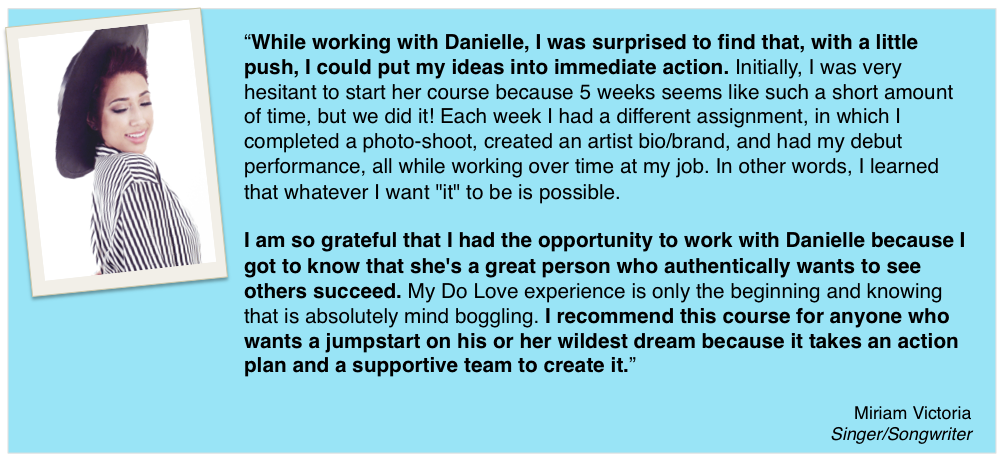 My mission is mobilizing people to do what they love and earn what they deserve. I created PRESS PLAY to help more people press play on the music inside of them…because the world has been waiting to hear it.


PRESS PLAY is a 5-week online course carefully designed to help you lay the foundation for turning your passion into a business.
In five weeks, I help you refine your profitable passion and develop a deliberate course of action. Along the way, you have the support of your fellow PRESS PLAYers who are building their businesses right alongside you.
PRESS PLAY content will make you think, 'Lightbulb moment!' and the exercises will make you say, 'Hell yeah!' We get into some powerful concepts that will change your perspective and subsequently, your world.
PRESS PLAY is all about taking action.
I am here during the course to instruct you, guide you, answer any and all questions you have, and ensure you're attacking your goals with fearlessness and fury. 
Who is PRESS PLAY for?
You work a 9-5 and feel drained, unfulfilled, and like you're not doing what you were put on this earth to do.
You have an idea or passion you want to pursue—you just haven't had the support or know-how to get started.
You're a writer, designer, trainer, coach, speaker, or know a lot about a particular topic…but need help turning it into a business.
You're ready to do something larger than yourself…something that matters.
What can you expect from PRESS PLAY?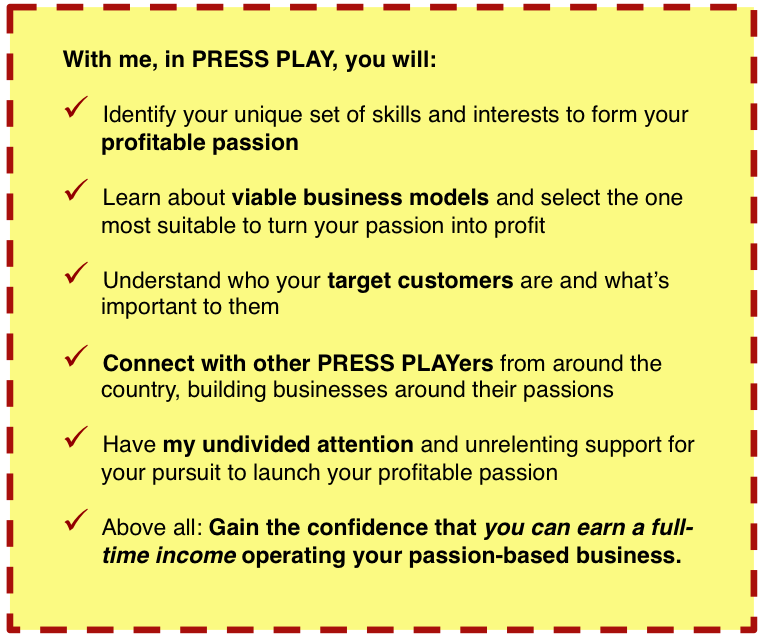 What will we cover in PRESS PLAY?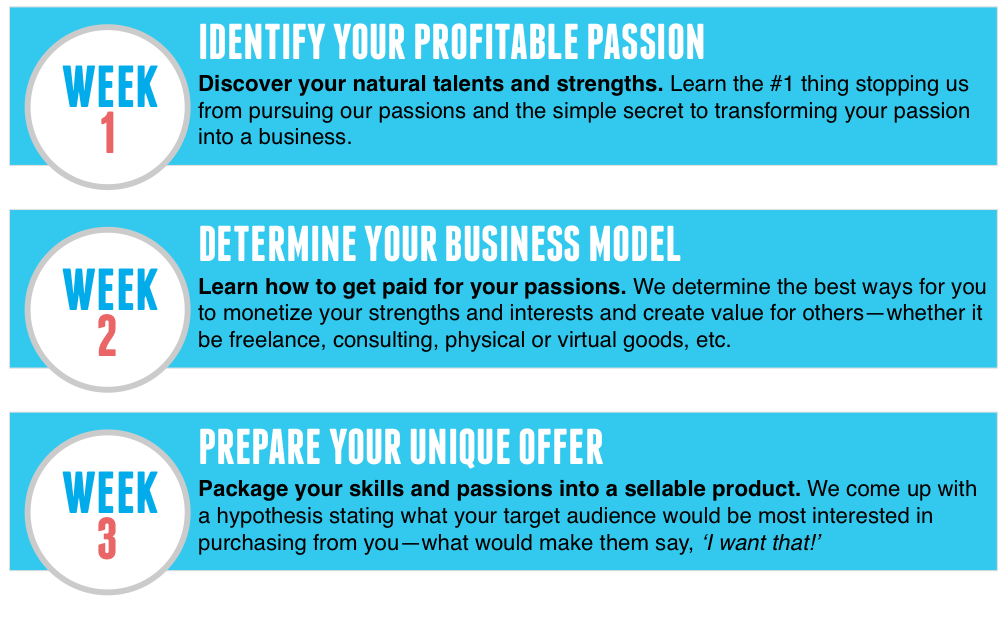 I realize this may sound overwhelming, but trust me—I break each week down into bite-sized pieces to keep you from getting stuck or feeling overwhelmed.
If you're ready to take your passion-based business from nothing to something, email me to find out the next time I'm offering PRESS PLAY: danielle(@)doloveproject(.)com.
What they're saying…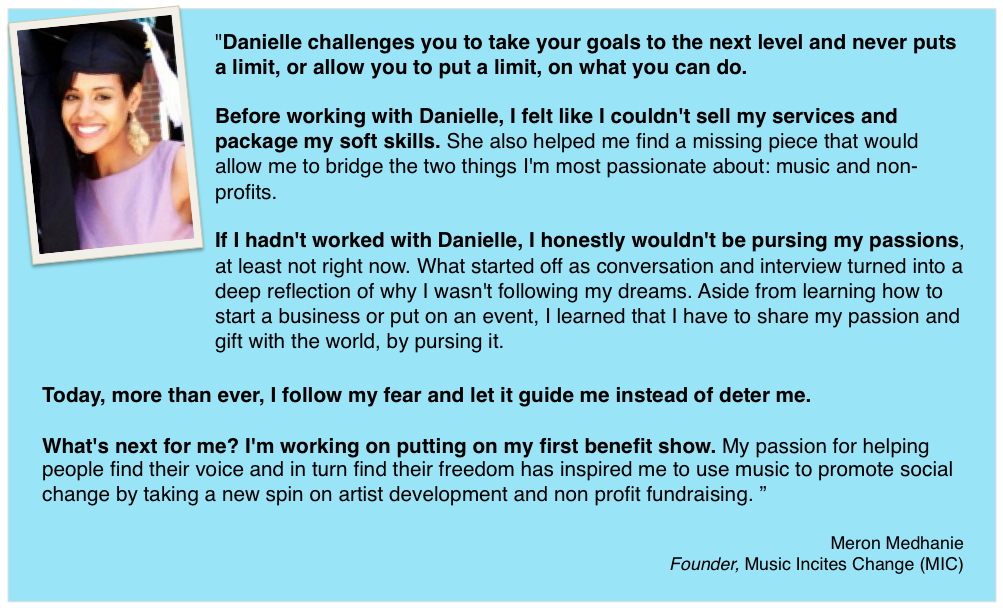 Your investment for PRESS PLAY includes:
Video Instruction: Videos featuring yours truly, along with presentations and screencasts containing information about identifying your profitable passion, branding, sales, and customer development. (Value: $1,195)
Private Consulting Calls: Once per week, I will hold consulting calls reserved for you and other current PRESS PLAYers. During these calls, I will answer your questions and provide custom feedback on your passion-based businesses. (Value: $385)
Access to Private PRESS PLAY Community: As a PRESS PLAYer, you will receive access to a private group forum where you will post weekly Playsheets and questions to get feedback and insights from your fellow PRESS PLAYers. This is a tremendous opportunity to build valuable relationships and expand your network to include other like-minded individuals. (Value: Priceless!)
Intimate Interviews with Individuals Who Went from Nothing to Something: Inspirational, one-on-one interviews with individuals who have successfully built businesses and are earning full-time incomes around their passions. (Value: $495)
Training Diagrams and Visual Media: Anytime I can say it and display it, I will. Each lesson will contain supporting materials using graphics and visual media to convey the concepts in an engaging way. (Value: $95)
Playsheets and Playtime: Every week, you have the opportunity to complete Playsheets and activities that go towards starting your passion-based business. This may include anything from speaking with potential customers to crafting your service or product descriptions. I will be there to make sure the tasks are straightforward and achievable and that you are taking bold actions towards your goals. (Value: $1,050)
Bonus Materials: Each week, I will include additional resources produced by myself and others that reinforce the concepts we covered to make sure everything is crystal clear.
Here's my promise to you:
Once a PRESS PLAYer, always a PRESS PLAYer. If you enroll, you get

lifetime access

to the course. And I can almost guarantee this program will never be offered at this low price again. Enroll now to lock in the low rate.

What others are saying…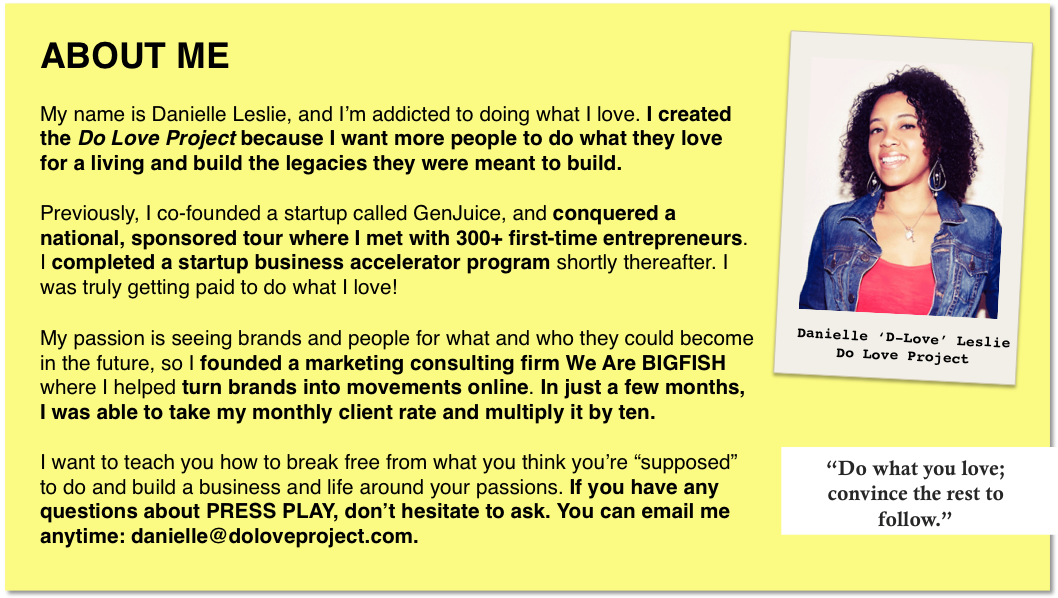 …And what if you don't enroll in PRESS PLAY today? Five weeks from now, will you still be in this position with no progress towards your goals? Let's unpause your life. Email me to find out when the next PRESS PLAY program begins: danielle(@)doloveproject(.)com.