How to Manifest Your Boldest Dreams into Reality
(in less than 6 months)
Do Love Talk featuring: Danielle 'D-Love' Leslie, Founder of Do Love Project
Amber Rae, Creator of Bold Academy
Join us live online Wednesday, June 20th at 6:00pm PST/9:00pm EST
You missed it! Enter your email below to receive the recording.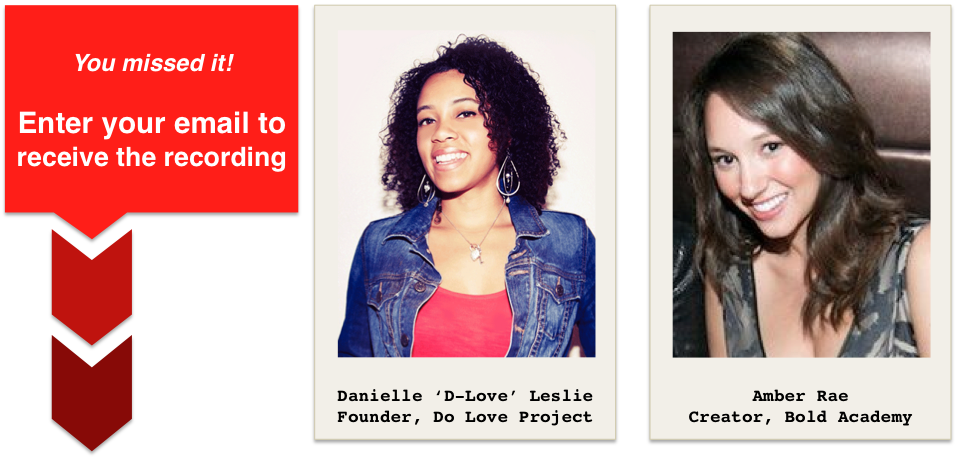 Once you enter your email, you will receive a recording of the live Do Love Talk.
Do Love Talks are online conversations featuring fearless individuals doing what they love and earning what they deserve unapologetically. Each person in the series has built a business around their passion and inspires others through their pursuits to make a HUGE impact.

How did Amber Rae take Bold Academy from idea to a team of 11 heart-centered doers and $75K in revenue in less than 6 months?

And how does she plan to reach millions of people with her new movement?
Amber gives us a glimpse into how she approached and conquered this larger than life vision and how she plans to continue its massive growth in the future.

How did Danielle start the Do Love Project and launch the 5-week Press Play program by accident? 

 And how does she plan to grow the "Do what you love; convince the rest to follow" culture?
Danielle dives into how the Do Love Project was born and how she plans to grow the #dolove tribe by living the #dolove philosophy.


 Tell me about a time you…
Turned have nots into haves and created something from nothing.
Let your fear fuel you and your curiosity lead you.
Convinced someone to pay you what you deserve to do what you love.
If you want to learn how to achieve what you never thought possible by unleashing your superpowers, transform your idea into a real-life venture or business, and grow a meaningful movement, then you do NOT want to miss this Do Love Talk. We'll be live on the call and will allow plenty of time for Q & A. Enter your email address above to receive a recording of the live Do Love Talk!
—
Danielle 'D-Love' Leslie is addicted to doing what she loves and created the Do Love Project and PRESS PLAY to mobilize people to build their lives (and start businesses) around their passions. She previously co-founded and helped GenJuice grow to 100+ content contributors and completed a startup accelerator, met with over 300 first-time entrepreneurs during a national sponsored tour, and helped startups create movements online with her branding and marketing consultancy We Are BIGFISH.
Amber Rae is obsessed with unrealized human potential. In the last 365 days, she said Hell Yes to: Working with Seth Godin to launch the Domino Project, helping Derek Sivers make his book a best-seller, helping hundreds of people claim the lives they're meant to live with the Passion Experiment, and launching a "Bold Academy" dedicated to unlocking potential. She contributes to Fast Company and has been featured in the New York Times, Inc., Forbes, The Huffington Post, Fast Company, BBC, and ABC World News.