I'm Danielle 'D-Love' Leslie, and I'm here to upgrade ya.
When you started your business, you were absolutely in love with what you were doing—the brand you established, the services and products you were offering. …And then you realized high-paying customers and clients were harder to come by than you thought.
And you started doubting your ability to grow your business.
Instead of spending time creating and building your business, you worry because others don't see the value you see. The "right" customers are few and far in between.
What if you could make a couple upgrades to your business and attract the right clientele?
My mission is mobilizing people to do what they love and earn what they deserve. I created FAST FORWARD to help more people accelerate the growth of their businesses in a meaningful way…because the world needs what you have to offer.
Who might you be? I'll take a few guesses:
You're damn good at your side hustle, and you're at the point where you want to do it full-time.
You may freelance, consult, and/or do contract work. Sometimes you work with clients that make you giddy with joy, and sometimes you work with clients that make you queasy with frustration or yawn with boredom.
You want clients and customers to pay you what you're worth…instead of fighting you over price.
You crave a time where you can wake up when you want and do work because you want to—not because you have to.
If you're damn good at what you do, and have a desire to do it full-time, then why aren't you?
Perhaps you don't feel like you deserve to do what you love full-time. Maybe you feel you need to "pay your dues" first.
Perhaps you don't feel ready—like you need more experience and case studies.
Perhaps the one thing stopping you from taking your side hustle into a full-time business is…you don't know how.
I can relate. As a newcomer consultant, I earned $250/month from a client to do work I despised and frankly sucked at. I quickly learned, however, how to position myself as a premium product, and my next clients paid me $3,000/month to do work I was passionate about. I've also helped several startups hone their brands and attract the "right" customers and co-founded my own startup where we turned a local meetup into a national sponsored tour in under six months.
Through all the work I've done, I developed a framework that continues to help me attract the "right" clients and opportunities, and I created a program to teach freelancers, consultants, and online business owners the strategies I used to multiply my starting income by a factor of ten and turn a new startup into a movement in under six months. 
It's so fulfilling helping a brand or business take flight, and I want to help you do just that.

FAST FORWARD (FFWD) is a 5-week program carefully designed to help you lay the foundation for turning your side hustle into a full-time income generating business.
Each week, you receive a video from me on a topic that will make a material difference in your business. You will also receive access to a private group where you can connect with the other members of FFWD. It's a very intimate course to ensure you get plenty of one-on-one time and custom recommendations from me.
After five weeks, you will understand that it doesn't take a whole lot of time or money to accelerate your business' growth; it just takes a shift in mindset and a few deliberate actions. Along the way, you have the support and brainpower of your fellow FFWD members who are growing their businesses right alongside you.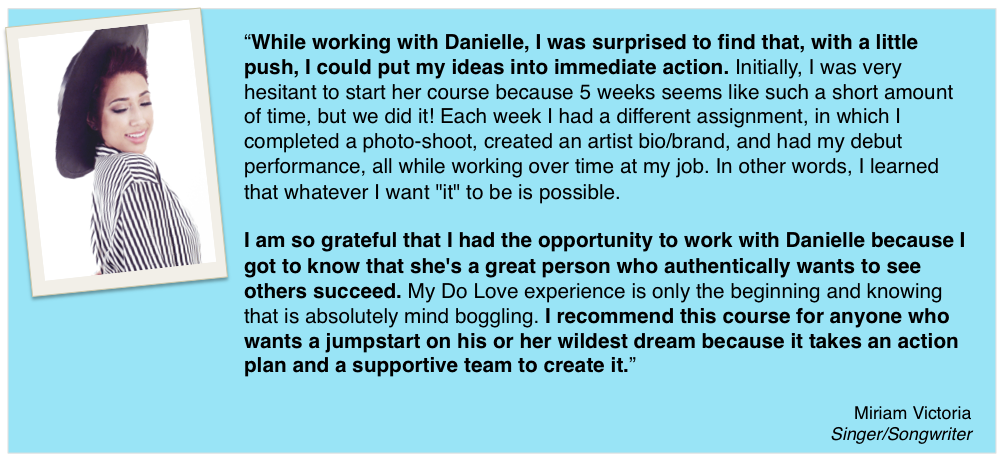 FAST FORWARD is all about taking action.
During FAST FORWARD, you will:
Position yourself as a premium product. Don't shy away from aggressive pricing. When friends and acquaintances have a question about pricing (namely, how to get someone to pay them what they're worth), they come to me. There are simple steps to positioning yourself to receive the respect and compensation you deserve for your talents and products. You'll learn all the tricks and even get a peek at actual pitch and proposal decks I've used in meetings with brands for $5,000/month contracts. Prepare to change your mindset and approach to value and pricing in FFWD.
Say goodbye to the side hustle and hello to your shiny, new full-time business. What's the absolute earliest you want to take your side hustle to your full-time income source? What precise steps are you taking to make sure it happens? How long have you been trying to take it there and fallen short? Why am I asking you twenty questions? Well, there is a reason you haven't succeeded and taken your business to the next level. You may need a smarter and more aggressive strategy and/or an accountability partner and community of supporters to help you make it happen. Whatever the reason, it's kept you from claiming what's yours—freedom to grow the business of your dreams and your legacy. That stops today when you join FFWD.
Transform your brand into a movement. Tribes trump followers. Gaga's monsters were born this way, Rihanna's navy is unapologetically loud, and Apple's creatives think differently. What about you? What does your loyal community call itself? How about your "WHY"—that value system that fuels your engine and binds your "Monsters" or "Navy" together? Whether you have a single-person operation or small team-run business, you need a brand, babe. And then you need to know how to attract and nurture a tribe (also affectionately known as lifetime customers). In FFWD, I help you develop all of the above.
Deliver unforgettable customer experiences. Lifetime customers—get some. Snapple has quirky sayings under its bottle caps, and there's the apparel brand that hand writes thank you notes to its customers. How do you make your customers' experiences unique and unforgettable? How are you convincing drive by customers to stay for a lifetime? From standard practices like building your email list to special touches that pleasantly surprise customers, we cover it all in FFWD.
If you're ready to accelerate the growth of your part-time business, EMAIL ME NOW to find out when the next FAST FORWARD program begins: danielle(@)doloveproject(.)com.
Remember: I'm here during the course to instruct you, guide you, answer any and all questions you have, and ensure you're attacking your goals with fearlessness and fury.
What they're saying…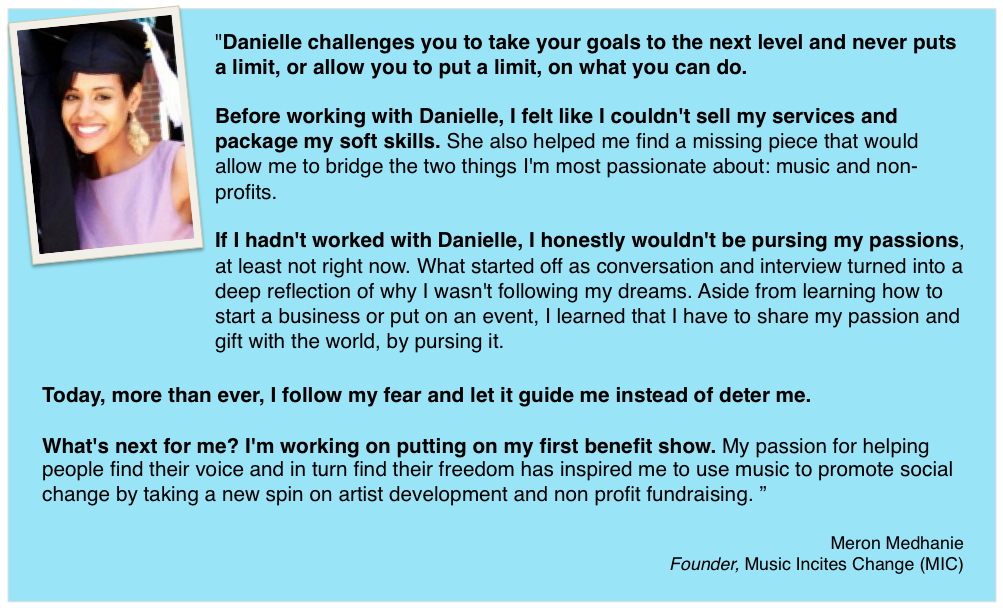 Your investment in FFWD includes:
Video Instruction: Videos featuring yours truly, along with presentations and screencasts where I share the exact strategies I used to grow my business and the frameworks you can follow to do the same. (Value: $1,195)
Private Consulting Calls: Once per week, I will hold consulting calls reserved for you and other current FFWD members. During these calls, I will answer your questions and provide custom feedback on your business. (Value: $385)
Playsheets and Playtime: Every week, you have the opportunity to complete Playsheets and activities that go towards growing your business. This may include anything from speaking with potential customers to refining your service or product offerings. I will be there to make sure the tasks are straightforward and achievable and that you are taking bold actions towards your goals. (Value: $1,050)
Access to Private FFWD Community: You will receive access to a private group where you will post weekly Playsheets and questions to get feedback and insights from your fellow classmates. This is a tremendous opportunity to build valuable relationships and expand your network to include other like-minded individuals. (Value: Priceless!)
Intimate Interviews with Thriving & Passionate Business Owners: Inspirational, one-on-one interviews with individuals who have successfully built businesses and are earning full-time incomes around their passions. (Value: $495)
Training Diagrams and Visual Media: Anytime I can say it and display it, I will. Each lesson will contain supporting materials using graphics and visual media to convey the concepts in an engaging way. (Value: $95)
Bonus Materials: Each week, you will receive additional resources produced by myself and others that reinforce the concepts we covered to make sure everything is crystal clear.

Here's my promise to you:
Once a FFWD member, always a FFWD member. If you enroll, you get
lifetime access
to the course. And I can almost guarantee this program will never be offered at this low price again.
Email me now to lock in the low rate and find out when the next program begins: danielle(@)doloveproject(.)com.

What others are saying…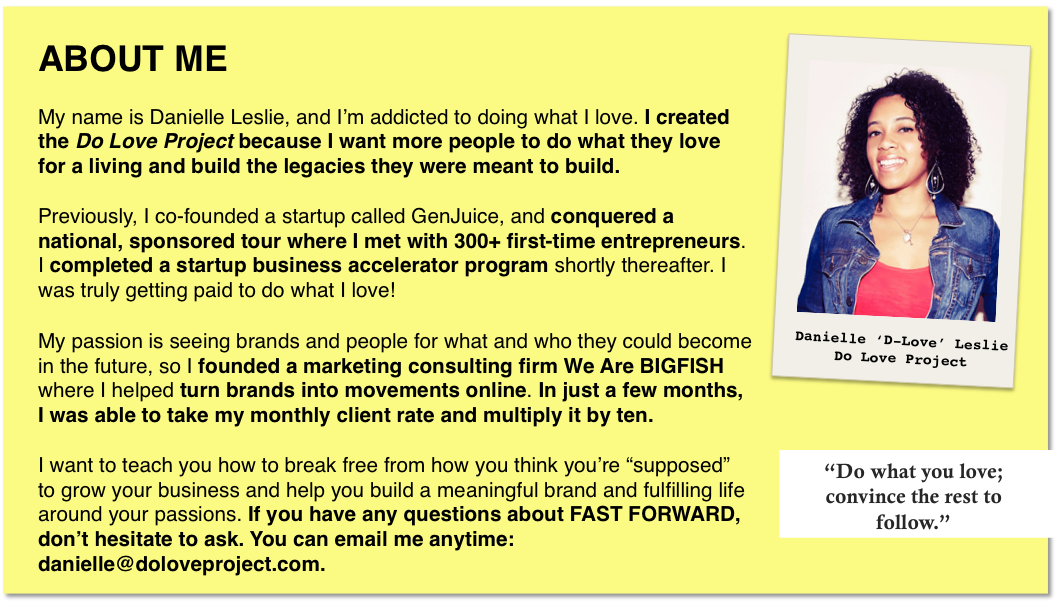 …And what if you don't enroll in FFWD today? Five weeks from now, will you still be in this position with no progress towards your business growth objectives? Let's fast forward your business and brand potential. Email me now to make sure you have a spot for the next FAST FORWARD: danielle(@)doloveproject(.)com. '…Partner, lemme upgrade ya.'

FAQs
Do I have time for this class? FFWD should take you about three hours per week. This includes the video instruction, Playsheets, Playtime, and our weekly consulting call. I understand you may have a full-time job, side gig(s), and perhaps a family and/or a social calendar to juggle. I included only necessary items in the course that will, without a question, add value. All the extra 'I'm just adding this info so my course looks robust' material is for the birds. 🙂
Can I afford this class? Well, that's subjective, isn't it? If you will experience hardship and become a month late with rent or get your electricity turned off, then I would recommend you hold off on taking FFWD. Otherwise, can you afford it? Hell yes! The more important question is: Can you afford to not make yourself and your business a priority? If you land one to three clients (depending on how much you charge), you will have paid for FFWD. That's hard to beat and hard to ignore.
Any other questions? Don't be shy—email me! danielle[at]doloveproject[dot]com