Becoming Part of a Hell Yes! Culture
Danielle 'D-Love' Leslie interviews
Geada Ford, Creative Director for Marie Forleo
Join us live online Wednesday, June 13th at 6:00pm PST/9:00pm EST 
You missed it! Enter your email below to receive the recording.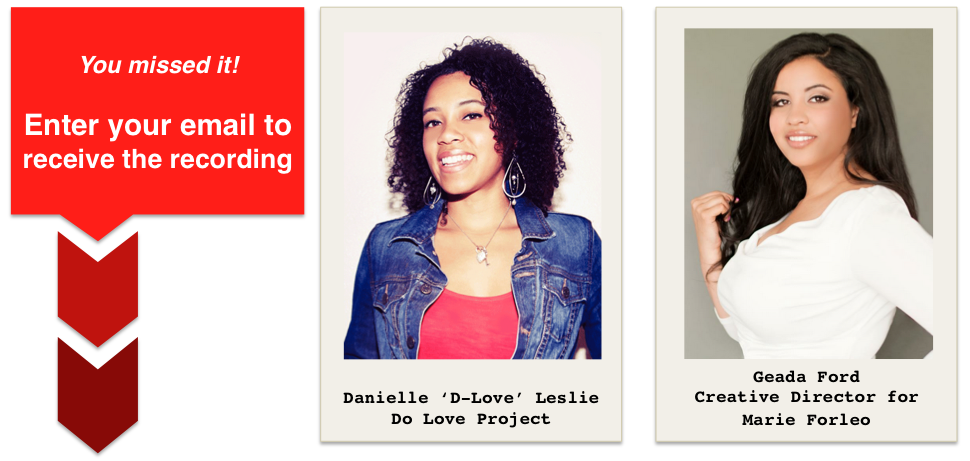 Once you enter your email, you will receive the recording of the live Do Love Talk.
—
Do Love Talks are online conversations featuring fearless individuals doing what they love and earning what they deserve unapologetically. Each person in the series has built a business around their passion and continues to inspire others through their pursuits to make a HUGE impact.
SHARE THIS!

This Do Love Talk "Becoming Part of a Hell Yes! Culture" features Geada Ford, Creative Director for Marie Forleo. If you're familiar with Marie, you know that she recently underwent an entire branding and website redesign, and, well, Geada Ford is responsible.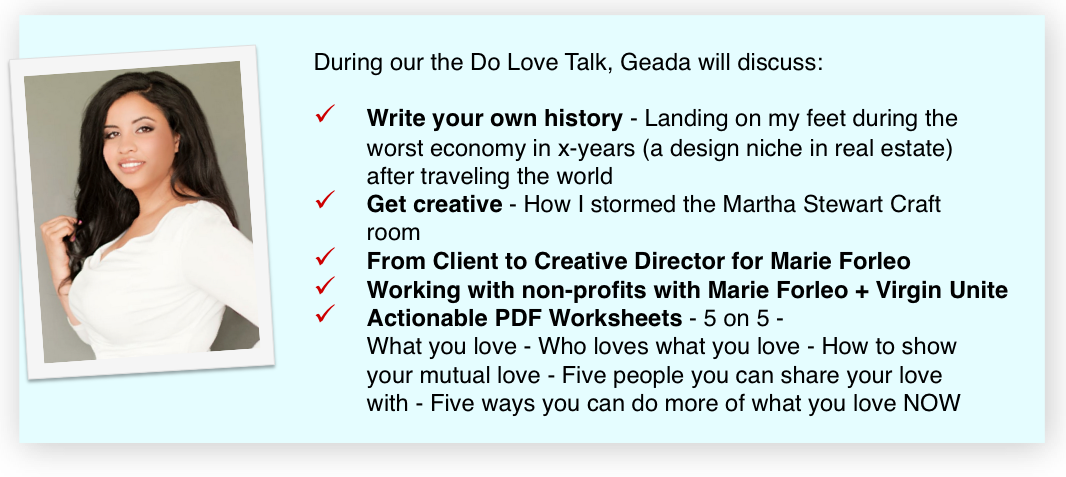 If you want to learn how to build a business around your passion, take your freelancing or consulting to new heights, and work with someone you absolutely admire, you do NOT want to miss this Do Love Talk featuring Geada. We'll be live on the call and will allow plenty of time for Q & A.
Enter your email address above to receive the recording!
—
Geada Ford describes herself as a Brand-thropologist. She create cultures—places where brands live. By mixing together her knowledge of branding and design with what real people feel, need and want in a light hearted way, she removes the wall between you and them. That's right—design can break barriers (cue the Celine Dion track).
Danielle Leslie
is addicted to doing what she loves and created the
Do Love Project
 to inspire and inform the next generation of passionate entrepreneurs. She previously traveled around the US and Asia as a social media evangelist, organized and completed the national sponsored GenJuice Tour, co-founded a web startup helping Gen Y entrepreneurs start their first companies, and founded her branding and marketing consultancy We Are BIGFISH.