"Take a risk. Share your passion. Do what you love. Care about the people you touch. The best way to stand out from the crowds is to give a shit about what you do. Stop apologizing for who you are. You are enough. Stop robbing the world of your unique voice." -excerpt from The Fierce Manifesto, Fierce Leadership Summit 2012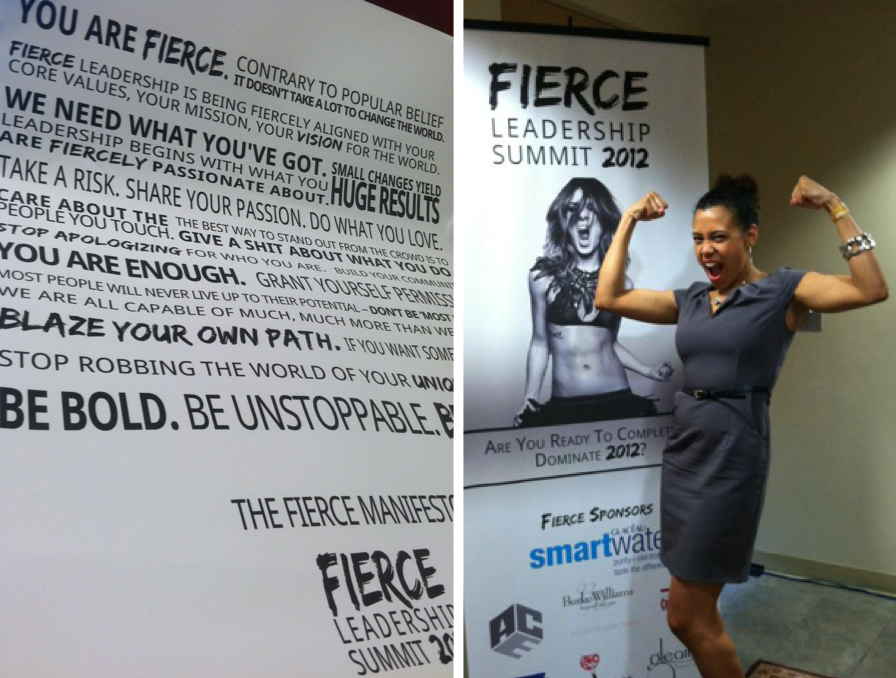 Four days later, I'm still alerting my sister about epiphanies inspired by the phenomenal women I met at the Fierce Leadership Summit. The themes of the day included:
Be your authentic self.
Stop stalling and start sharing your natural gifts with the world.
Surround yourself with positive people.
I took something away from each and every speaker. I walked away from the event as my authentic self, and I don't intend on looking back. Aside from the event impacting me, I'm floored by the change I've witnessed in my sister who also attended the event. Her new enthusiasm for her future is so encouraging, and I am so grateful to Nailah Blades of Polka Dot Coaching for putting on the Fierce Leadership Summit.
I met so many incredible women (and one gentleman!) at #FLS2012, including the gorgeous and witty TV host Sharzad Kiadeh of LuxLyfe, the beautiful and intelligent Marketing Optimist herself Donna Queza, the man who went from no publishing contract to published book in under 12 months Jason Womack author of Your Best Just Got Better, the super uplifting and energetic woman behind the Fierce Leadership website Rema Morgan of Pink Lemonade Creative, and the phenomenal ladies Rona, Stephanie, and Rachel of GraceBlu Designs which is top notch interior design.
I included the specific takeaways I received from each Fierce speaker below:
And that's my wrap-up for the Fierce Leadership Summit! If you're in LA (or have access to internet) when #FLS2012 comes around next year, I hope to see you!