Stop asking people to follow you on Twitter and ask for email addresses instead!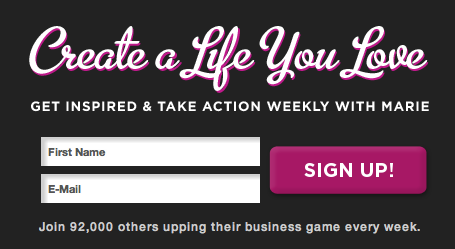 If you're planning to make any money from your blog or online business, the last thing you should be doing is telling people to follow you on Twitter or Like you on Facebook. (Okay, maybe not the last thing, but it should not be your priority!)
Your #1 call to action for anyone visiting your website, reading your content, or watching your videos should be to subscribe to your email list. If you have 500 Facebook Likes and 12 email subscribers…then you're doing it wrong. If you have 2,000 YouTube subscribers and 0 email addresses, then #youredoingitwrong. Allow me to explain…
What is an email opt-in, and why do I need one on my site?
An email opt-in is where visitors add their email address to subscribe and receive email updates from you. (See an example above from MarieForleo.com.)
When I co-founded GenJuice in 2010, a few people I sought advice from told me "the money is in the list." I distinctly remember Tim Sykes insisting on us "building our list" before anything else.
At the time, I didn't understand why building an email list was so important. I thought growing our following on Twitter and accumulating Facebook Likes was far more important. Boy, was I wrong.
This is precisely why it concerns me when bloggers and online business owners' go-to call to action is "Follow me on Twitter and Tumblr! Subscribe to me on YouTube! Like me on Facebook!" 
I know from experience that, although having a couple thousand Facebook Likes and Twitter followers is a great ego boost, it often does little for your pocket book if those Likes and followers aren't also email subscribers.
The reality is: 1) most people don't know how to convert followers to paying customers and 2) it's much easier to get an email subscriber to purchase from you than a Twitter follower. Why? When you're on Facebook, Twitter, Instagram, YouTube, you're just another fish in the sea. When people visit these social networks, they have so many other profiles vying for their attention.
On the other hand, when I'm in your email inbox, it's just you and me, babe. It's one-to-one (not one-to-many) communication, so you're more likely to focus on what I have to share with you. If I'm a musician, I may have a new track or new merchandise available for purchase. If I'm a coach or consultant, I may have a new service or offer available for sale. If I'm an artist or make jewelry, I may have new prints and products for sale.
What better place to build a relationship with a potential customer than their inbox? What better place to invite them to buy your goods (music, merch, services, jewelry) than in the intimate space an email inbox affords us?
Remember, people tend to check their email several times a day and notice new items in their inbox. However, it's easy to miss posts on Facebook and Twitter because others are also constantly posting updates.
I'll close this portion with wise words from Drake in "Amen."
Worrying about your followers; you need to get your dollars up. (Tweet this.)
I'm sure Drake didn't have email opt-ins in mind when he said this, but I snagged the line for this discussion. Stop worrying about your Twitter followers and build that email list so you can get us buying your goods!
How do I add an email opt-in to my site?
So, now that I've convinced you about the importance of building a list versus accumulating followers on Twitter, Tumblr, etc., let's talk about how to add an email opt-in to your blog or site. You have several options when it comes to managing your email list and email marketing. I recommend Mailchimp or Aweber. I use the free version of Mailchimp, but I plan to switch to Aweber (currently $19/month) as my email marketing needs grow.
Mailchimp is user-friendly and has tons of instructional videos to get you set up with little difficulty or head-scratching. Aweber is more robust than Mailchimp, but I believe it's pretty straightforward to set up, as well. Both services have excellent customer service, so you'll be in good hands.
I won't walk you through the setup process, but from a high level, you will design your email opt-in form (colors, fonts, message, etc.) within your email marketing service, and they will give you an embed code to copy and paste into your blog editor to add the email form onto your blog or website.
If you already have an email opt-in but want to step your game up:
For you advanced users out there who are serious about stepping your email marketing and list building game up, check out Optin Skin (h/t to Sean Davis for this awesome resource). Optin Skin is a WordPress plugin that enables you to place an oh-you-fancy-huh email opt-in at key points throughout your site. If you're serious about capturing email addresses, give people ample opportunities to give you their digits!
Here are some locations to place the email opt-in throughout your site:
above the fold
on the sidebar
at the end of each blog post
in the footer
on your About page.
See Think Traffic for an excellent example of email opt-in design and placement.
There's your guide to adding an email opt-in box to your blog or website (and more importantly why this should be a bigger priority than getting people to follow you on Twitter, for goodness sake)!
LET'S #GETBRANDNEW!
Create an account with Mailchimp, Aweber, or an email marketing service of your choice today.
Design your email opt-in form, and add it to your site.
Get them digits!! Start collecting email addresses and building your list. (Don't be annoying or spam people. :))
Stop telling people to follow you on Twitter before you tell them to subscribe to your email list!
What's your biggest takeaway from this post? Do you know of any sweet email opt-in examples? Let me know in the comments below!
—-
If you need help building a business around your passion or turning your side hustle into your full-time, join the Do Love list to receive notes from me on how to do what you love and convince the rest to follow.
Know Your Common Thread (Do Love Daily No. 4)
Attract your next customer with these five words. (Do Love Daily No. 3)