Sometimes the hardest part of the journey is believing you're worthy of the trip. (Tweet this.)
I remember speaking with someone who had recently tried doing what he loves, and he had the most peculiar response to the experience. He said, "It shouldn't be this easy." I said, "Wait, that's the point!"
It is supposed to be "this easy." You are supposed to bottle your brilliance and ship it to the world. You are supposed to love your work and live your dreams.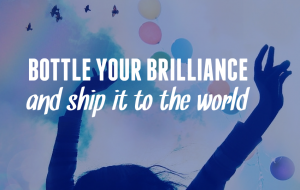 But of course recognizing your brilliance is not always easy. Figuring out the best way to bottle it is not always easy. And mustering the discipline and courage to ship stops a lot of us from sharing our gifts with the world.
This Wednesday, Amber Rae, Creator of Bold Academy and inspirational force of nature is joining me for a live, online Do Love Talk: How to Manifest Your Boldest Dreams into Reality (in less than six months).
Most of us don't see our own brilliance because we live our realities everyday. We compare ourselves to others and let our failures keep us from recognizing our gifts. Choose to know your brilliance today. That's the first step to bottling it and shipping it to the world. I hope to see you on the Do Love Talk tomorrow at 6pm PST.
[The opening quote is from Glenn Beck. I don't agree with his politics, but it's a damn good quote.]
—
If you need help building a business around your passion or turning your side hustle into your full-time, join the email list to receive tips on how to do what you love and convince the rest to follow.