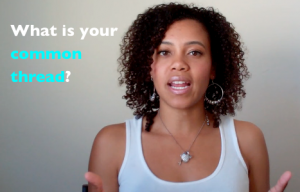 A few months ago, I had a bit of an identity crisis. I looked back on the companies I'd worked for, the ventures I started, the client work I'd done, and I thought: Who am I? After I got over being dramatic, I asked myself, more specifically:
What drives me to do all of these things? How on earth can I connect the dots between these things?
The answer was simpler than I thought. 
In this video, I reveal the common thread running along all projects and people I get involved with. Watch it to see what my common thread is and more importantly, how you can determine yours!
So…drumroll…
What's your common thread? (Tweet this.)

How do you connect the dots of things you've done and aspire to do? (Tweet this.)
Leave us a preview in the comments below!
Attract your next customer with these five words. (Do Love Daily No. 3)
How to say goodbye to your fear of failure. (Do Love Daily No. 2)
Are you in your Element? (Do Love Daily No. 1)
—
If you need help building a business around your passion or turning your side hustle into your full-time, join the email list to receive tips on how to do what you love and convince the rest to follow.